Interesting Stories about Audio & Home Entertainment technologies
Last update: May 29, 2012
Bryston BDP-1/BDA-1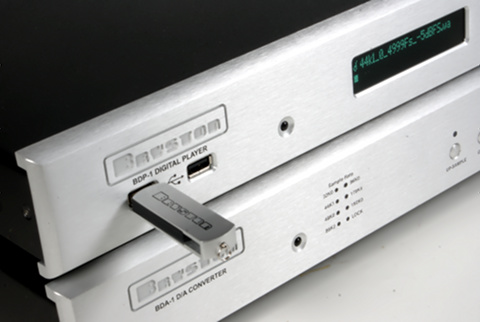 Bryston is another serious manufacturer deciding to try their luck in the field of media players offering their own version as to functionality. Apparently, they gave it a lot of thought. Unlike other solutions more or less common on the market, Canadians chose a particularly plain approach: a simplified computer platform with no hard disk, based on a Linux operating system that offers the ability to read files from storage media connected to USB ports. BDP-1 does not have a DAC, offering digital outputs only, and, reasonably, company suggests using the converter BDA-1 for this part. We have tested this package for a considerable time and here are our impressions...
| | |
| --- | --- |
| | |
| BDP-1 is a pefect match for BDA-1. It is not just a coincidence that Bryston suggests its top converter as the perfect match for media player, but of course the media player can match to any good DAC in the market. | Two USB ports on the front. You can connect here storage devices with their own power supply or limited power requirements (memory sticks for example). |
| | |
| BDP-1's handling is classic. In practice, one can use the keys on the front panel with absolutely no problem, provided the music collection is of limited volume. | User finds himself in front of a small but quite readable -even from long distance- screen... |
Details
It is clear that BDP-1 has been designed with the mind on BDA-1 as to aesthetics. As you can also see in the photos, it has similar dimensions and finish, resulting to be the ideal couple. User finds himself in front of a small but quite readable -even from long distance- screen, a series of classic keyboard controls (play, stop, pause etc) as well as navigation keys for the menu. Front has two more USB ports where low power storage media (sticks) or hard drives with their own power supply can be connected. Rear panel includes the essentials, i.e. Ethernet port, S/PDIF and AES/EBU digital outputs, as well as two additional USB ports, where drives without a power supply can be mounted too.
Interior of Bryston's media player seems more like a computer and less like an audio device. Computing infrastructure occupies most of the printed circuit board, using a memory flash containing Linux operating system, AMD's chipset in the processor part and all necessary circuits for the system's networking and ports' support. Additionally there is a big buffer where data are stored as they are red from the storage media in an effort to minimize timing and jitter problems. The audio processing part of the device is a small module from ESI (Bryston reports that they use a custom version of Juli@). Player is compatible with high definition files (up to 24/192) in wav, flac and aiff, as well as with wma and mp3 format files.
BDA-1 is based on a digital interface/sample rate converter from Texas Instruments (SRC 4392) and on a PCM2707 from Burr Brown for the data handling in the USB port. The DAC uses Cirrus' CS4398 converters and a discrete output stage designed as operational amplifier in class A. Digital inputs are isolated using transformers and user has the ability to activate the upsampling algorithm at will, by a switch on the front. In terms of connections, BDA-1 offers (except the USB port) AES/EBU, four coaxial and two optical inputs. There are both single ended and balanced outputs for the preamplifier connection, as well as a digital output too.
| | |
| --- | --- |
| | |
| BDA-1 (lower) offers a full set of digital inputs. Its USB port supports bitrates up to 48kHz and is somewhat outdated, though. | BDP-1 has two more USB ports on the back side (for hard disks without power supply), as well as an Ethernet port. Digital outputs are S/PDIF and AES/EBU. |
| | |
| A small pc with audio orientation. Inside the BDP-1 one can see the flash memory with Linux operating system (below in the middle), the memory buffer (lower right), the AMD chipset and interfacing circuits, as well as the ESI module (the white board on the upper left side of the photo). | Asynchronus upsampler from Burr Brown (in the middle), two converters from Cirrus (on the right) and the balanced, discrete, class A analog stage for the output (far right). |
Lab Results
Lab evaluation of the BDP-1 was always in connection with the BDA-1, with input signals stored on a USB memory and output signals being analog through BDA's single ended output.
Bryston's system showed its quality from the very first moment, playing back signals of very low level with almost no noise at all. It's performance as to this point is the best we have ever seen up to the moment. Frequency response was proved, as expected, practically flat without variations and with great similarity between the two channels.
Signal modulation noise was extremely low, both in level and with regard to intermodulation products close to the measurement frequency (9998Ηz/44.1kHz και 23995Hz/96kHz).
Output spectrum with 1kHz signal, shows a system with very low distortion (there is a slight third harmonic below -130dBr) and very low noise which is slightly higher in the case of 96kHz. Noise from the power supply (50/100Hz) appears to be negligible. Noise spectrum showed a slightly growing trend in high frequencies (above 50kHz) as well as a very small peak at 100Hz.
Diagram of harmonic distortion vs frequency varies between 0.003% and 0.004% tending to increase above 10kHz. Variation of distortion and noise vs signal level was as one expects, with distortion plus noise figures increasing as the signal level gets lower. For 96κHz signals, performance was slightly better.
| | |
| --- | --- |
| | |
| Low level sinusoidal signal playback, 1kHz, -80dBFS, with dithering, 24bit/96kHz. | Frequency response for both channels. Reference level 1kHz, -20dBFS |
| | |
| Signal modulation noise. Reference signal: 9.998kHz/-5dBr, 44.1kHz | Signal modulation noise. Reference signal: 23.995kHz/-5dBr, 96kHz |
| | |
| 1kHz Spectrum. -20dBFS, 44.1kHz (green curve), 96kHz (red curve) | Noise spectrum. Reference level: 1kHz 0dBFS, 44.1kHz (green curve), 96kHz (red curve) |
| | |
| thd+N Vs frequency (level -20dBFS) | thd+N Vs level (1kHz), 44.1kHz (green curve), 96kHz (red curve) |
Listening
One of the strong points of BDP-1 is that no network infrastructure is required for its use, since the user has access to all functions through the front panel menu or through an (optional) remote control. In practice, this way is good enough only with small music collections. I can think of someone having a wide range of sticks with few tracks putting them to listen according to his mood, but it is absolutely impossible to manage large collections of thousands of tracks from the BDP-1 menu and additionally if the collection is a large one, a considerable period of time is required till the disc is indexed, a procedure that is running every time you turn on the player of every time you connect the disc. As an indication, BDP-1 required about 15 minutes to "load" a 60GB music hard disc (about 10.000 tracks) while MediaMonkey requires for the same job, just about five minutes.
A much better approach requires Εthernet network infrastructure with a rooter and at least one device that can function as client with BDP-1 on a server role. You just need to connect Bryston's player to the network and to direct the software to its address. Bryston has included in BDP-1 two versions of one player (Max and Minia, for PCs and smart phones respectively) which I would, mildly, describe elementary and can be used -according to my opinion- just to test that the system works properly (there's not even field "search" for God's sake! -at least when we tested the BDP-1 which was in 2011). Fortunately, there are alternatives. The user can install either GMP (Gnome Music Player Client) application which runs both in Linux and XP/Win7 environments, or an add-on for Firefox called Minion. Both offer significant functionality and a user interface that follows the standard logic of applications of this kind, bringing BDP-1 pretty close to the feeling one gets when handling his music collection through a computer. Of course, with or without a network, the problem of high indexing times remains and, if the collection is large, the most convenient is to keep everything in on state.
For system evaluation, files of standard resolution (16/44k1) have been used, as well as files of higher resolution in wav and flac formats. Testing procedure is reflected also in the recorded files listed at the end of the text. You will find there, for using as a reference, 8 clips in their original form (as they have been stored in memory that Bryston had access) and their 8 corresponding recordings from the BDA-1's single ended output (sampling was at 24bit/192kHz). The first impression gained while listening to the Bryston's pair was that of excellent analysis in both the horizontal axis and the axis of depth, with very good sense of the air between instruments. This feeling becomes even more impressive with files of high resolution. The BDP-1/BDA-1 system was very detailed at lows, maybe with some slight hint of emphasis – which remained always pleasant- neutral and balanced in the mid band and very close to the sound I'm used to from the reference converter as to the highs, being slightly faster in the sustain/release part but with an exemplary lack of harshness and a feeling of transparency.
Conclusion
In conclusion, the BDP-1/BDA-1 system was quite impressive almost in any respect: From the sound quality point of view, it appears to be a transparent, neutral and well behaved system. Then, as far as the usability is concerned, I have found it quite simple and easy to use. Of course, like the vast majority of such devices, so BDP-1 does not "feel comfortable" with large file collections, and tries to impose a model of using a large number of media of small capacity, idea with which I personally disagree. But I don't worry, not at all. Everything will be corrected running properly in the next upgrade
Equipment used during listening sessions
Teac Esoteric P70/D70, Nirvana DC-110, dCS Puccini U-Clock, Melos Plus Series Line, Copland DRC-205, Parasound HCA3500, ATC SCM-50PSL
LISTENING SESSIONS
The following recordings were made with a DV-RA1000 Tascam master recorder (using 24bit/192kHz sample rate) and you can download them to have an impression of what the device under review sounded like. It is obvious that any recording of this kind could not be absolutely transparent but, according to our experience, the majority of sound attributes we listen to, during the actual listening sessions, are preserved. The file format is .wav, so expect that the zipped files will be quite large (even if the clips are about a minute or less long. You could use a ABX listening plug-in like the ΑΒΧ plug-in for foobar2000 if you want to make some more elaborate experiments. Contact is if you have any questions.
TRACK LIST:
Bryston BDP-1
Specifications (Data according to the manufacturer
Description:
Network/Media Player
Compatibility:
mp3, wmp, aiff, wav, flac, 16/44.1- 24/192
Storage media:
through USB port, memory sticks, hard disks with or without power
Operating system:
Linux
Inputs:
4x USB ports
Outputs:
1x S/PDIF (BNC), 1x AES/EBU (XLR)
Network:
Ethernet
Software:
Bryston Mini/Max, GMP, Minion, MPoD
Dimensions:
435x280x70 (mm, wxdxh)
Weight:
5.4kg
Bryston BDA-1_2
Specifications (Data according to the manufacturer
Description:
D/A converter
Sampling frequencies:
32kHz-192kHz (16-24bit)
Inputs:
2x coaxial (RCA), 2x coaxial (BNC), 2x optical (Toslink), 1x AES/EBU (XLR), 1x USB (48kHz)
Outputs:
1x single ended (RCA), 1x balanced (XLR), 1x coaxial (RCA)
Upsampling:
176.4kHz/192kHz, switch selected
Dimensions:
435x280x70 (mm, wxdxh)
Weight:
8.2kg
Price & More Info
Bryston BDP-1:
€3.000,- (price for the greek market)
Bryston BDA-1:
€2.239,- (price for the greek market)
More Information:
web: http://bryston.com/
Review Sample
Adamco